A crown, also known as a cap, covers the entire tooth. Its purpose is to strengthen and/or improve the appearance and function of a tooth. Reasons for a crown are to:
Protect a cracked tooth
Protect a weak tooth from breaking
Protect a root canalled tooth
Attach a cemented bridge to replace a missing tooth
Cover a dental implant
 Improve the appearance of a tooth
Correct misaligned teeth without orthodontics
Rebuild severely worn teeth
It is now well-known that fillings compromise the structural integrity of the treated tooth. A tooth with a smaller filling is minimally affected, but larger fillings significantly increase the incidence of catastrophic tooth fracture resulting in root canals or extractions. Larger fillings also experience new decay several times faster on average than smaller fillings. Since larger fillings are already closer to the tooth pulp (the nerve), small amounts of new decay under a previous large filling can have significant consequences.
Crowns are the only form of dental treatment that restores a tooth to the strength it possessed before it became diseased. The crown encases the tooth in a solid, high-strength shell that absorbs stresses. A crown acts essentially like a helmet for your tooth.
Crowns are also absolutely essential for back teeth that have received root canal treatments. Root canals result in a very high incidence of root fracture and splits if the treated tooth is not crowned. Root fractures and split teeth are not treatable and result in an extraction.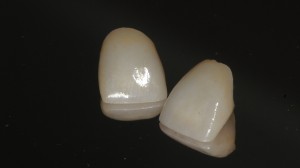 Our crowns are metal free, all-ceramic, and highly cosmetic pieces that are hand made by higher-end dental craftsmen in the United States. (No outsourcing oversees from our practice!) Crowns are sometimes employed as part of a larger effort to improve the appearance of teeth that are strongly discolored or deformed by years of wear and tear.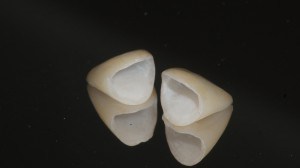 All-ceramic crowns, such as ours, represent a great cosmetic improvement over crowns from years passed. All-ceramic crowns employing the highest quality porcelains and a talented technician, can be excellently shade matched to existing teeth. They can also be given "characterizations" using applied stains that reproduce the subtle features that make the patient's teeth unique.
In cosmetic cases, we carefully match our crowns using digital photography, and sometimes chairside staining.