If your dentist has told you that you need a root canal, it is perfectly natural for you to be apprehensive about a new experience. Let's take a look at root canals and all that they entail in hopes that a little knowledge will go a long way in allaying your fears.
What Exactly is a Root Canal?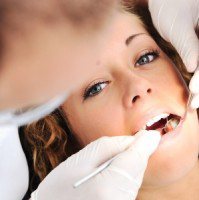 One of the most common dental procedures, a root canal is reformed to give your natural tooth a second chance by treating the inflammation and infection from the inside. A root canal treatment is required when the pulp (the soft tissue inside your teeth) becomes inflamed or diseased…possibly from a deep cavity or a cracked or broken tooth. During a root canal operation, your dentist will remove the infected pulp. The pulp chamber and root canal of your tooth are then cleaned and sealed. If the infected pulp is not removed, pain and swelling can result, and your tooth may have to be removed.
Does a Root Canal Hurt?
With advances in modern dentistry, a root canal is very similar to having a routine tooth filling and can most often be completed in one or two appointments. (This will depend on the condition of your tooth and your personal circumstances.) If you tooth is infected or inflamed, it is highly likely you are in substantial pain before the procedure, and that the root canal will relieve your discomfort.
Is a Root Canal Expensive?
The cost of a root canal varies depending on how severe the problem is and which of your teeth is affected. The leading factor that will determine your root canal cost is the amount of time and resources your dentist must commit to complete the procedure. Osborne Family Dental is a modern, friendly, quality care private dental practice located in North Canton, Ohio. We feel we are competitively priced with other practices of our caliber and promise:
Reliable cost estimates before treatment starts
Financial consultation available on site or over the phone
Flexible payment options
Fees that are a fair and reasonable reflection of the quality of care that we provide
We want to help you manage the costs of keeping your teeth healthy. At Osborne Family Dental, we strive to provide you with a positive, pleasant experience.