Tooth sensitivity is a discomfort in one or more teeth as a result of hot or cold foods, foods that are too sweet or sour, or even simply breathing cold air. Understanding what triggers your tooth sensitivity, and how to treat it, can reduce discomfort and make daily life much more manageable.
What Causes Tooth Sensitivity?
Sensitive teeth occur when the lower layer of dentin becomes exposed. This can be caused by:
Brushing too hard or using tooth whitening products
Tooth decay near the gums, recession of the gums or gum disease
Acidic foods
Plaque buildup
Age
How Can Tooth Sensitivity Be Reduced?
If you are suffering from tooth sensitivity, there is hope. Tooth sensitivity can be reduced by taking proper steps to maintain good oral hygiene. Brushing with a soft bristled toothbrush, watching the foods that you eat and using fluoridated products, such as mouthwashes and toothpastes, can help reduce or eliminate tooth sensitivity.
You are always encouraged to see your dentist regularly for checkups to have your teeth professionally cleaned, which will reduce instances of tooth sensitivity.
What Can Be Done if My Sensitivity Persists?
Some tooth sensitivity is caused by teeth grinding, and still other tooth sensitivity is so persistent that following the above suggestions simply doesn't help. In these cases, seeing your dentist may be the best option. Dental professionals can fit you for mouth guards to prevent grinding of teeth, and can also cover exposed roots with fluoride sealers, varnishes or white bondings. Any of these options can drastically reduce tooth sensitivity and discomfort.
Where Can I Get More Information about Understanding & Treating Sensitive Teeth?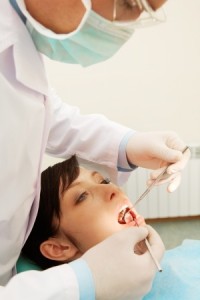 At Osborne Family Dental, our door is always open to you. We believe in detecting and treating disease early, so that you don't have to experience the accompanying pain and discomfort. And we're here to listen. If you have questions or concerns about your treatment options or procedures, we promise to take the time to discuss them with you, because when you come to Osborne Family Dental, you're not just a patient, you're family.
If you've been suffering from sensitive teeth and want to learn more about the treatment options available, contact us to speak with a dental professional. With a thorough examination, Dr. Osborne can discuss with you how to treat your tooth sensitivity in the most effective way.